This month has gone by so quickly, I swear time goes faster when you're living on a monthly income! This month I have bought quite a few new products that I have been loving, and have also rediscovered some old gems. So lets get started...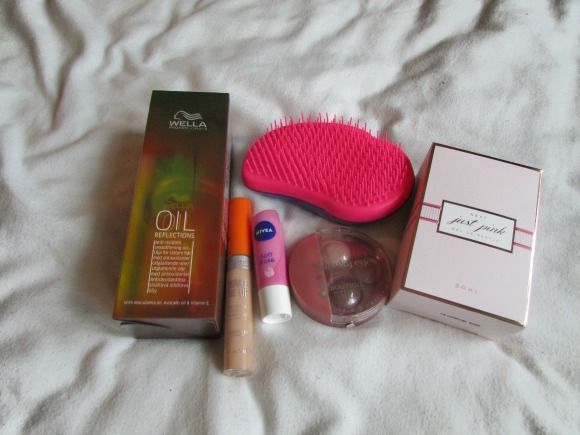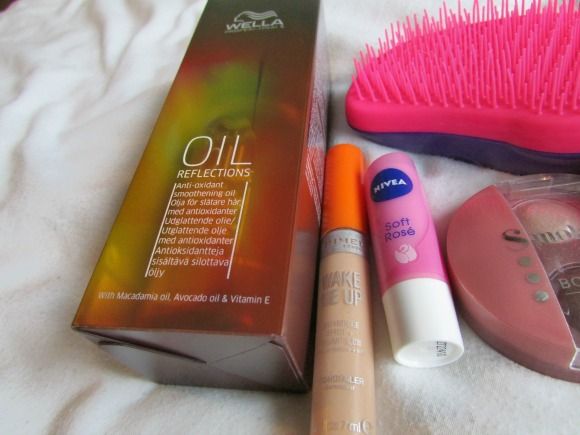 Nivea Lip Balm
I bought this in Poundland a couple of weks ago (see my haul
here)
and this month I've been using it daily on my lips to keep them moisturised. I find a lot of lip balms and lip products such as Carmex leave my lips very dry after a couple of weeks but I have yet to find the same problem with this product.
Just Pink by Next
I'm quite fussy when it comes to perfume, especially the more expensive ones but every now and then I like to try something. This is quite a heavy scent and it reminds me of Euphoria by Calvin Klein a little bit. I would call it quite a 'grown up' perfume and definitely one for an evening. I've worn this out in the local pubs and out for food and it lasts ages.
Bourjois Vintage Rose Palette
This is another of my new purchases. I never really go for coloured eye shadow, I normally stick to greys and bronze shades but these colours are so gorgeous that I could not resist! I use the light shade for highlighting the brow bone and for the inner corners, the medium shade for the lid and then the dark shade in the crease and then blend with the medium shade on the lid. Its a really lovely palette and one that can be worn when the weather is changing as it suits end-of-summer and Autumn clothing.
Tangle Teezer
I am so so so happy that I decided to buy this, I'm actually a little gutted I waited so long! I've done a full review of it here
but all in all its a lovely brush to use especially with long, damp hair. I've been using this every day, and where my hair used to be quite greasy I've noticed it been a lot better since using this brush so a big thumbs up!
Wella Reflections Oil
Another new purchase and another product that I have fully reviewed (
click here)
but I have loved using this product. It has a gorgeous smell to it, after using it for a few weeks my hair already feels softer and thicker, and I just think it has helped improve the overall condition of my hair.
Rimmel Wake Me Up Concealer
I have rediscovered this concealer this month. I have been suffering with quite dark eye circles and although my Lasting Perfection Concealer is very good when it comes to coverage, this concealer just makes my under eye area look much brighter and more awake.
So there we have it! I love discovering new little gems and also rediscovering old favourites, I always have my staple items that I can't live without but its nice to change to different products every now and then.
Has anyone else been loving any of these products? What are your monthly faves? Leave links below.